Rafflesia arnoldii, the world's largest flower.
Photographed in West Sumatra, Indonesia
#J7-16
© Karl Lehmann
Click here for a closer view of the blossom.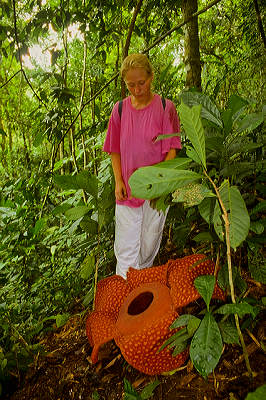 Scroll down for more information about this photograph
Several species of Rafflesia grow in the jungles of Southeast Asia, all of them threatened or endangered. Rafflesia arnoldii is the largest; its blossom attains a diameter of nearly a meter and can weigh up to 11 kg. Not only is it the world's largest flower, it is one of the most bizarre and improbable organisms on the planet.

It produces no leaves, stems or roots but lives as a parasite on the Tetrastigma vine, which grows only in primary (undisturbed) rainforest. Only the flower or bud can be seen; the rest of the plant exists only as filaments within its unfortunate host. The blossom is pollinated by flies attracted by its scent, which resembles that of carrion.

The Rafflesia is rare and fairly hard to locate. It is especially difficult to see in bloom; the buds take many months to develop and the blossom lasts for just a few days. How many of these strange plants still survive is unknown, but the last of them can be expected to vanish as the remaining primary forests of Borneo and Sumatra are burned.

This photograph is available as an 11x16" signed print, archivally mounted and matted or archivally framed in black metal.

Mounted size is 17"x22" (43x56 cm).
Archivally mounted and matted
17"x22"
$295